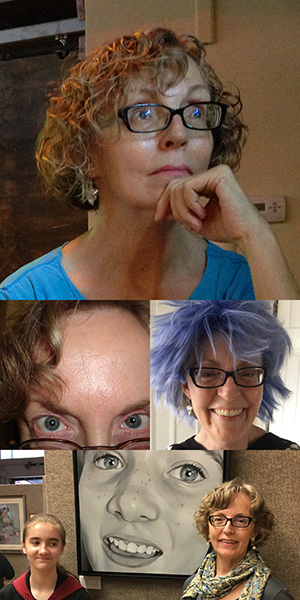 I've been able to draw and paint almost since I could first hold a pencil or paintbrush and by the time I was in high school I knew that I wanted to pursue a career in the arts. I applied and was accepted to a prestigious art school on the West Coast, where I majored in illustration. After I finished school I married and moved to England, where I began my career as a designer/illustrator. My husband and I came back to the States and we settled first in Southern California, then moved north to Reno, Nevada, where we spent two and a half years. My husband's fledgling career in the film visual effects industry took us back to SoCal, where we spent the better part of two decades before realizing that the area's cost of living, coupled with the outsourcing of visual effects jobs to companies overseas, was going to eventually wipe us out financially. We took a collective deep breath, said a few prayers, and made the leap to south-central Texas, where we started afresh.

My experience as an artist spans several decades and yet I always find that there's something new to learn, some unexplored new technique or technology, around almost every corner. I've been fortunate enough to be able to work in many fields, from designing for high-end silkscreen, to building websites, to designing 3D-sculpted statuettes, to producing two dimensional props for television and film, and this exposure to various disciplines has given me an almost chameleon-like versatility. I'm a quick study and, due no doubt to my years of building props, I can emulate almost any artistic style with relative ease. I'm a hopeless font geek and I have a deep appreciation for typography and its long rich history. The clean, iconic look of work by the late, great Saul Bass thrills me as much as the edgy, gritty yet riotously colorful designs of street artists. Good design will stop me in my tracks, whether it's a clever billboard, a riveting title sequence/end crawl, a striking logo or a clean, functional website.

Want to know more about my work history? Click here.

Thanks for stopping by! If I can be of any help to you with your next project, or if you're interested in commissioning a one-of-a-kind portrait, click here.